Coming to Nepal we mistook mountains for clouds…India welcomed us with a thick layer of smog. We literally could not see the sky as the haziness lingered in the air. Just a week before we arrived, the schools were closed for a couple of days due to high levels of pollution in the city. We didn't plan on staying in Delhi for more than what we needed to in order to catch a train to Agra (to see Taj Mahal). However, getting an Indian visa to cross the border from Nepal overland turned out to be an expensive and time-consuming process. We decided to change our plans and applied for an e-visa instead. This meant we had to fly into Delhi, as e-visas are valid only if you enter the country through the airport – something we will check more carefully next time!
We got our first taste of India when we were leaving Nepal. The first thing that surprised us was the amount of screening gates that we had to go through. They were separate for men and women. The difference in the perception of gender was more and more apparent the closer we were getting to India.
At the airport, in Kathmandu, we met a very nice tour guide from Delhi. We hung out with him whilst waiting for our flight and discussed possible things to do in his city. The conversation developed and we got to know that our new friend's wife is pregnant, and expecting in a few months. Hanna asked a standard question: whether he and his wife want to know if it's a boy or a girl, or whether they want it to be a surprise. Then, both of us realised that the question wasn't in place – it's generally known that males are considered the most important in Indian families. Our companion kindly told us that it's against the law to know the sex of the baby, as many people would end the pregnancy if they knew they were expecting a girl!
For Hanna, this came as a massive shock! We both agreed that often things like this are taken for granted. Seems like sometimes there are bigger issues than whether the room of the new arrival should be blue, pink or maybe neutral, if the parents 'go for a surprise'…
Not many people may know that India and Nepal are amongst the nine countries in the world that distinguish more than two genders. In Nepal, when given an Immigration departure form at the airport, one can select their gender from male, female or other.
In India, the topic of gender equality seems to be open for discussion in theory, however in real life (on the street, metro or airport) we experienced the difference in attitudes towards males and females – it made us question how do they accommodate for people, who identify themselves as other gender?
Our flight to Delhi lasted only 1.5 hours, and by accident we ended up in business class - what a surprise! Delhi airport welcomed us with clean, open and modern spaces, and we went through immigration really quickly. This was a nice contrast to the treatment that we usually receive when trying to return to the UK.
After entering the arrival hall, we both realised the impact that the government's decision to withdraw all 500 and 1,000 rupee notes from circulation has actually had on the country. Suddenly, last week, the Prime Minister decided that all 500 and 1000 notes are now redundant. The decision was made at 9pm on a Tuesday night without any notice whatsoever! Although this step was needed to clear the market of black money, many ordinary people have ended up losing large amounts of savings.
Of the seven airport ATMs, four were out of cash, and the other three had lines of approximately 40 people each - with every customer withdrawing their daily card limit of 2,000 rupees (about £25) from every bankcard they owned. Luckily for us, they allow foreigners to jump the queue! We probably would have been at the airport for the best part of 2-3 hours if we had had to wait at the end.
At the ATM, Hanna was vigorously assisted by a group of four men whilst withdrawing our money. One was even kind enough to watch over her shoulder and push the buttons on the screen, when she took a nano-second-too-long to consider how much money to withdraw.
Next came the taxi ride - an experience and a half! Zach took the approach: well the driver must know what he is doing, so it's probably best to stop panicking, sit back, and not focus on the impending death that is surely about to hit us! In between the horrendous traffic, whenever our driver got a chance (and we mean whenever he got a chance!), he darted across 4 lanes of traffic, tailgated centimeters behind the car in front, and on too many occasions to count, he nearly knocked a motorbike, or person, over. A 12km journey took us over 2 hours...
We arrived at Anita's and Rajesh's house (our AirBnB hosts) where they welcomed us with beaming smiles and a delicious homemade dinner. That evening, we felt at home and even stopped missing our parents for just a little while – they made us feel as if we were their son and daughter. We quickly learnt that Anita loves having her photo taken as she showed us her frame full of selfies! Hanna asked if they were keen for a short photo shoot. A prompt response of 'yes' from Anita, and the following morning we were in the nearby park. Once again we realised how serious the pollution problem is in Delhi. The park was "green" but a distinctive amount of dust covered all the trees, bushes and grass. This didn't deter our hosts from enjoying the shoot. They loved being photographed, and soon we will have discovered that they weren't the only Indians who do so…
We decided to explore some of Delhi as we didn't know much about it. We were only ever planning on being here for transit, so we didn't research anything. Thankfully, Anita and Rajesh told us where to start and helped come up with a plan.
They dropped us off at the metro so that we could head into the city center. The underground network is definitely a success story of Delhi. It is clean, safe, spacious and easy to use. There is an exorbitant amount of security (bag x-rays, walk through metal detectors, physical pat downs and metal wands) before you can even enter the station! Although a bit of a pain when carrying a huge backpack, it definitely makes you feel safe.
We got off the metro and it felt like waking up in an action movie. Look to the right – enormous cow 'parked' next to the set of the bikes, look to the left - someone frying food on an open fire 10 cm off the ground, walk 5 meters - you see a McDonald's, turn your head – ooopps, there is a rickshaw coming at you, and before you can step away, you're falling into the massive mob of people selling anything you can imagine.
When we finally got to our destination – the Red Fort Castle, we were able to explore only the war museum in detail. We learnt a lot about India's struggle for independence and the action of some of their citizens when fighting against the British. An overwhelming feeling of 'how does India not hate the British?' was what we left with.
We couldn't do much more sightseeing after that, as this was when Indians' love of taking photographs became ever so apparent!
Groups of boys and young men, the whole families and even the whole school trips (!) were stopping us to have their 'selfie' taken! We could not believe it. It happened in Nepal too, but we ignored the young lads trying to get a photo of us…here it was much more difficult to avoid. There were so many people everywhere.
We decided to be kind and go with the flow – we just said yes to the first group, 2nd group, 3rd group…in the end we felt like we had selfies with half of Delhi's population. After half sightseeing and half being (as we then thought…) Indian stars, we became a bit annoyed that we couldn't enjoy the UNESCO World Heritage Site the way we wanted to, and left.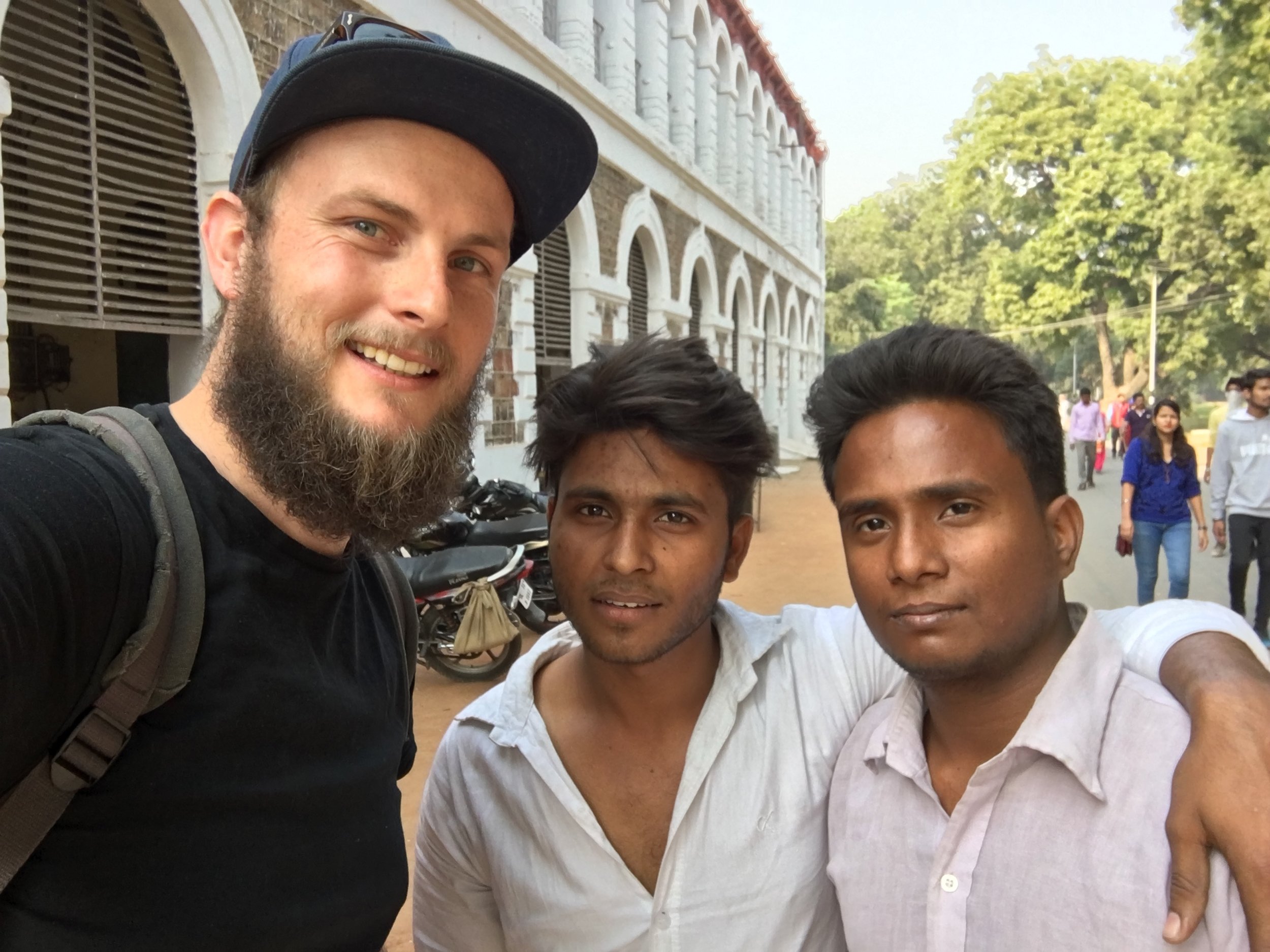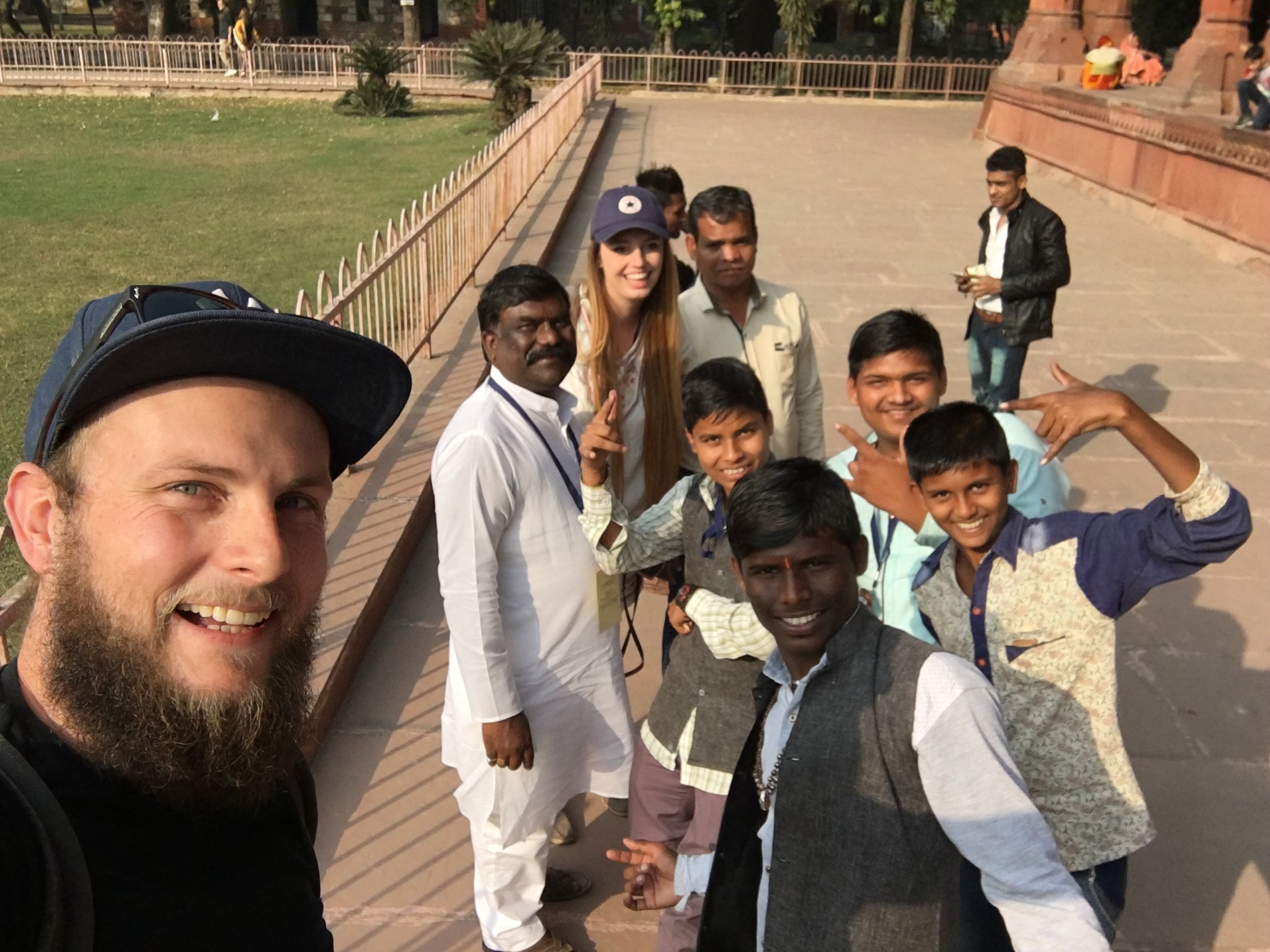 When we came back to Anita's and Rajesh's house, we asked about the selfie hype straight away. Anita laughed, and told us it's 'a new Indian trend' to have a selfie taken with a foreigner. Seems like we aren't that famous after all… The first 24 hours in India were intense and hectic, however our hosts, and many other people we met, were extremely friendly and made our first day one we won't forget.
Do wish us luck when we go out again tomorrow. Maybe then we'll be able to actually see some sights!